Happy Heat Pump Water Heater Day!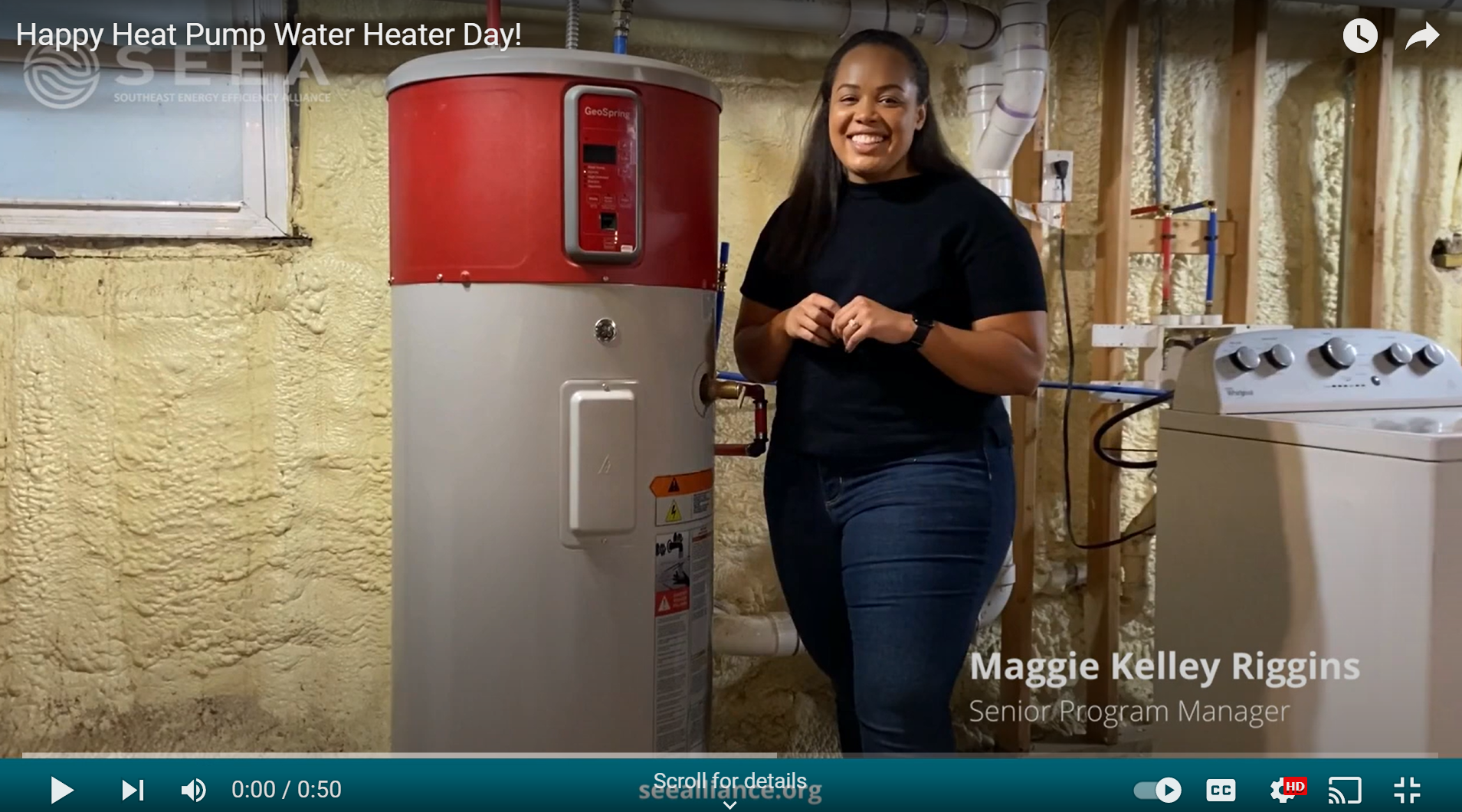 Today is the first-ever Heat Pump Water Heater Day, dedicated to heat pump water heater (HPWH) education and awareness. Join us on social media (Twitter, Linkedin, Facebook, Instagram) using the hashtag #HeatPumpItUp to share your HPWH resources, products, cost information, professional practices, projects, and insights on why you think this is a game changing technology.
High performance building technology is a key piece to accelerating the growth of efficient energy in the Southeast. Heat pump water heaters provide exceptional support for households and businesses across the region. Their design and function make them especially useful in the Southeast's hot and humid climate as they move heat from the surrounding space into the hot water tank. Water heating accounts for a large share of energy use in buildings—up to 32% in single-family and multifamily homes. Decreasing the amount of energy used to heat water with a HPWH decreases utility bills while maintaining on-demand hot water needed for daily life.
On average, HPWHs have higher initial costs than traditional electric-resistance water heaters used in approximately 68% of southeastern homes. However, there are federal, state, and utility rebates to offset the purchase cost available now and more coming in 2023. When those investments are combined with energy savings, the incremental increase in cost can quickly be recaptured. Through the Inflation Reduction Act, home and building owners can expect to see tax-credits of up to $2,000 and income-qualified rebates of $1,750 for the purchase and installation of Heat Pump Water Heaters.
Increasing the use of HPWH technology is critical in the pursuit of equitable electrification and ensuring everyone has access to affordable energy. Hot water is integral to daily life, and all people deserve to have affordable, safe hot water. Because nearly all homes use a water heater and they will all likely need to be replaced by 2035, Heat Pump Water Heaters are an ideal appliance for reducing energy use, carbon emissions and utility bills. Alleviating upfront costs, building awareness and developing a more knowledgeable workforce are critical for the widespread adoption of HPWHs.
SEEA is working to increase the adoption of Heat Pump Water Heaters in the Southeast. We are a proud supporting member of the Advanced Water Heating Initiative, where we strive to lift up voices, needs and innovation in the region. SEEA is also partnering with AZS Consulting in FL and Viridiant in VA on the Advanced Energy Ready Workforce Southeast project to develop technical expertise, improve customer comfort, lower energy costs and advance economic growth in the region.
If you are interested in learning more about our work on buildings and advanced technologies, contact Maggie Kelley Riggins, senior program manager.