Atlanta, GA, March 29, 2021 – Southeast Energy Efficiency Alliance (SEEA) is pleased to announce the appointment of Aimee Skrzekut as its new president. Aimee was chosen after an extensive search and selection process and will start in her new role on April 26, 2021. Aimee currently serves as the president of ATS Consulting, specializing in strategic planning, fundraising, program, and policy development.
"Along with our board of directors, I am excited to welcome Aimee to the SEEA family," said Huiet Joseph, SEEA's board chair. "She has a deep knowledge of energy efficiency work in both the utility and nonprofit sectors as well as the experience to further build on SEEA's goals to bring equity into the energy efficiency industry."
Aimee has more than 20 years of leadership experience collaborating with utilities, corporate leaders, regional and national partners. She has a successful record of developing innovative energy efficiency programs, fundraising, and a long history of supporting both internal and external diversity initiatives.
"I am honored and thrilled to join the team at SEEA. I have long admired the organization's focus on equitable solutions in energy and look forward to being a part of that work," Aimee commented.
Aimee will succeed Mandy Mahoney, who has served as SEEA's president since 2013. While at SEEA, Mandy led the region in promoting clean transportation, affordable housing, and energy efficiency policy. In January, Mandy announced her candidacy for Atlanta City Council.
"Mandy's leadership continues to shape the conversation on energy efficiency in the Southeast. We are incredibly grateful for her service. We are looking forward to what the next chapter brings for SEEA." said Steve Leeds former SEEA board chair and executive search committee chair.
The executive search for the new president was led by BoardWalk Consulting.
Our new COVID-19 Resources allows for more relevant and more frequent updates. You can access the original, archived resource page at any time.
We welcome your feedback and suggestions. Contact us anytime at [email protected].

Highlights
The U.S. lost over 429,000 clean energy jobs from March to December, finishing 2020 with the fewest number of workers in the industry since 2015 It also marked the first year clean energy saw a decline in jobs over the previous year.
Nationally, job losses in the clean energy and energy efficiency sectors increased 12% since the pre-pandemic era.
16,900 jobs were added nationally in December.
Clean vehicles experienced ongoing job loss of 31,468 and recovered about 400 jobs.
"Black and Hispanic workers continue to suffer from disproportionately high levels of unemployment overall, and Hispanic workers suffered increased unemployment rates in December. Women – particularly women of color – lost jobs in December overall while men gained jobs."
In December, the states with the largest gains, Texas, New York, North Carolina, and Florida secured more than 800 clean energy jobs
"Over 40 states continue to suffer double digit job losses in clean energy with four states facing 20 percent or greater unemployment and one state, Georgia, facing 30 percent unemployment in the sector."
"The counties that suffered hardest as a percent of their workforce are Fulton County, GA; DeKalb County, GA; and Kern County, CA."
---
Workforce Losses by Month (March – December 2020)
Workforce Losses by State (March – December 2020)
Source: Clean Energy Employment Initial Impacts from the COVID-19 Economic Crisis, September 2020, E4 the Future
---
Related News
EIA estimates in its Annual Energy Outlook 2021, that it will take 10 years for energy consumption from all energy sources to return to pre-pandemic levels.
Bloomberg New Energy Finance and the Business Council for Sustainable Energy reports in the annual Sustainable Energy in America Factbook that although energy use dropped 3.8% overall, residential electricity use increased.


Highlights
All eleven of the states in SEEA's territory have resumed utility disconnections. Some commissions have restored winter disconnection moratoria to alleviate mounting customer arrearages.
Customer arrearages or energy debt adds to a household's energy insecurity. Energy insecurity is a key metric for understanding the inequitable distribution of the benefits and burdens of the energy sector to residents of the Southeast. Learn more about energy insecurity in our recent blog post, report, and storymap.
NARUC has a new tracker following state responses to utility disconnections.
NEADA tracks dates for COVID19 disconnection moratoria along side annual winter disconnection moratoria.
---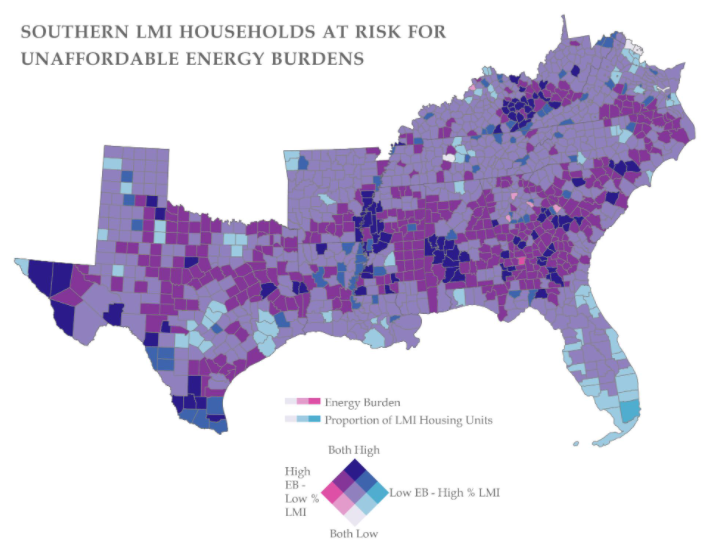 ---
Related News
Last month, SEEA released our report, Energy Insecurity Fundamentals for the South. We believe using common metrics is essential to creating robust and prescriptive policies that address the multiple dimensions of energy insecurity.
Energy burden is one of the most common metrics used to measure the economic aspects of energy insecurity. Energy burden is a household's residential energy costs, typically electricity, natural gas, or propane, divided by household income. The calculation should be based on annual income and cost data because of seasonal variations in energy use and income, especially for low-income households.
While energy burden can shed light on the financial aspect of energy insecurity, it does not provide a complete picture of how families manage their energy costs.
People who are unable to pay for basic energy needs such as heating, cooling, and lighting live in a state of energy insecurity. Energy insecurity highlights the many factors that influence energy access and affordability.
Energy insecurity is a key metric for understanding the inequitable distribution of the benefits and burdens of the energy sector on residents of the Southeast. Energy insecurity calls attention to the many factors that influence energy access and affordability. Age and quality of a residence, advanced building technologies, community health and air quality, economic burden, and behavioral coping mechanisms all contribute to energy insecurity. These multiple dimensions shed light on groups who are more at risk of becoming burdened by energy costs, customers who face disruption of energy services, and the unseen costs of energy in the Southeast.
Energy insecurity helps us better understand how the generation, transmission, and consumption of energy affects communities. We can also see how energy insecurity places residents at a higher risk for health and safety threats. This framework provides a broader perspective that encompasses a wide range of factors that influence energy affordability and access as well as the long-term impacts on utility customers. Effective programs to address the inequities in the energy sector must grapple with each of these causes to be successful.
SEEA's ongoing research and policy and program creation is grounded in our organizational value to pursue equitable solutions within the Southeast energy sector. Understanding the root causes of energy insecurity in our region helps us discover policy and program pathways that lead to an equitable energy system. Pursuing equitable solutions in the building sector requires a deeper understanding of the historical and contemporary policies, practices, and data that have led to the inequities Southerners experience today.
Learn More
We are pursuing additional research, policy, and program work to achieve a more energy secure Southeast. These resources provide additional insight on energy insecurity in the Southeast:
Questions? Contact Will Bryan or Maggie Kelley Riggins.