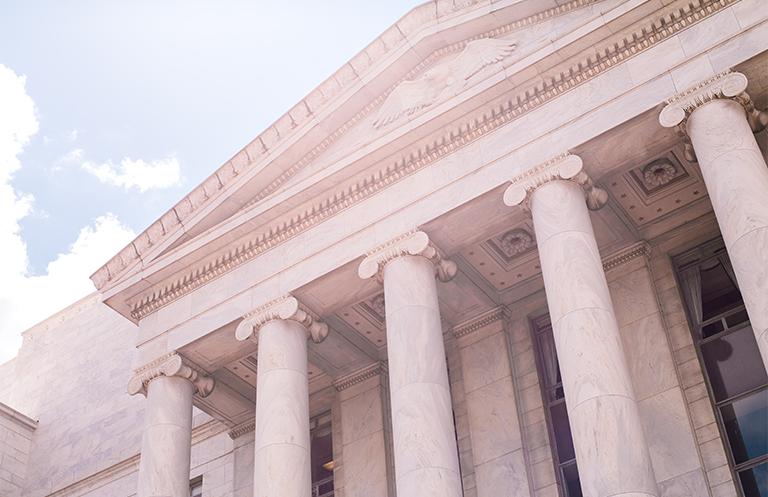 On Friday, November 5, the U.S. House of Representatives passed the Infrastructure Investment and Jobs Act. The bill passed the Senate in a bipartisan vote in August and President Biden has planned a signing ceremony for the bill on Monday, November 15. The $1.2 trillion package is a historic investment in infrastructure that advances energy efficiency, resiliency, and electric transportation. Combined with the President's Build Back Framework, it will average 1.5 million additional jobs every year for the next 10 years.
More than $4.5 billion will be appropriated to the U.S. Department of Energy to fund vital energy efficiency programs such as the State Energy Program, Weatherization Assistance Program, and the Energy Efficiency and Conservation Block Grant Program. The act also dedicates more than $30 billion to electrifying transportation from personal vehicles to school buses, ports, and public transit. Supporting energy efficiency and electric transportation is especially important as we continue to recover from the covid-19 pandemic, while also addressing the impacts of climate change like stronger storms, extreme heat, and rising sea levels in the eleven southeastern states SEEA serves.
"These investments are critical as we harness the power of energy efficiency to transform the way we live, work, and thrive in the Southeast and nationally," says SEEA president, Aimee Skrzekut. "We have an unprecedented opportunity to invest in a more diverse workforce, a more robust economy, and healthier housing to create a prosperous future for all."
---
Key provisions in the bill include:
Energy Efficiency
An online database to track energy demand, generation, storage, and emissions where available, in the contiguous 48 states (Title IV – Enabling Energy Infrastructure Investment and Data Collection, Subtitle B – Energy Information Administration);
A new grant program to support the adaptation and implementation of updated building energy codes, which is estimated to save over $40 billion and 1,180 MMT of CO2 emissions over the next thirty years. (Title V – Energy Efficiency and Building Infrastructure, Subtitle B – Buildings, Section 40511);
$10 million to educate and train workers on energy-efficient, modern building technology (Title V – Energy Efficiency and Building Infrastructure, Subtitle B – Buildings, Sections 40512 and 40513);
A $250 million for a new revolving loan fund, Investing in New Strategies for Upgrading Lower Attaining Efficiency (INSULATE) that supports residential and commercial building energy audits and improvements prioritized in states with the poorest efficiency in buildings (Title V – Energy Efficiency and Building Infrastructure, Subtitle A – Residential and Commercial Energy Efficiency, Section 40502);
Funding to support energy efficiency improvements and renewable energy improvements at public school facilities and nonprofit buildings (Title V – Energy Efficiency and Building Infrastructure, Subtitle D – Schools and Nonprofits);
An Energy Jobs Council to oversee the National Energy Employment Report and related activities (Title V – Energy Efficiency and Building Infrastructure, Subtitle E – Miscellaneous); and
Advancing industrial energy efficiency and smart manufacturing (Title V – Energy Efficiency and Building Infrastructure, Subtitle C – Industrial Energy Efficiency).
Resiliency
A requirement that state regulators consider establishing rate mechanisms allowing utilities to recover costs associated with programs that promote demand response (Title I – Grid Infrastructure and Resiliency, Subtitle – A Grid Infrastructure and Reliability, Section 40104);
Federal assistance to establish state energy security plans that protect energy infrastructure against physical and cybersecurity threats and ensure resiliency (Title I – Grid Infrastructure and Resiliency, Subtitle A – Grid Infrastructure and Reliability, Section 40108);
Funding to research the application of codes and standards for the use of mobile and stationary batteries in flexible applications (Title I – Grid Infrastructure and Resiliency, Subtitle A – Grid Infrastructure and Reliability, Section 40111);
Funding to research second-life applications for electric vehicle batteries as energy storage solutions (Title I – Grid Infrastructure and Resiliency, Subtitle A – Grid Infrastructure and Reliability, Section 40112); and
Help for coastal Georgians to prepare for more extreme weather, coastal flooding and other disasters exacerbated by climate change.
Electric Transportation
$2.5 billion to fund electric vehicle charging infrastructure in rural areas, low-and moderate-income neighborhoods, and communities with less public parking options (Title I – Federal-Aid Highways, Subtitle D – Climate Change, Section 11401);
An Electric Vehicle Working Group of government, utilities, and manufacturers to report on the barriers to electric vehicle adoption (Title V – Research and Innovation, Section 25006);
More than $6 billion to support a domestic supply chain for battery production (Title II – Supply Chains for Clean Energy Technologies, Section 40207);
A requirement that state regulators consider measures to promote electric transportation adoption by improving charging infrastructure (Title IV – Enabling Energy Infrastructure Investment and Data Collection, Subtitle C- Miscellaneous, Section 40431);
$5 billion to establishes a new grant program to replace existing school buses with zero or lower emission buses (Title XI – Clean School Buses and Ferries, Section 71101);
Investment to expand electric vehicle charging stations and other zero emission initiatives in North Carolina, South Carolina, and Virginia; and
Funding to replace the ridesharing transit fleet with zero-emissions vehicles in Gainesville, FL.
 Additional Resources
---
We will continue to track resources and opportunities as they are deployed nationally, and at the state or municipal level. If you want to explore the provisions of the bill further or would like to know how your organization can get involved, email or schedule a call with Cyrus Bhedwar, director of energy efficiency policy.
Anne Blair
America loves to drive. There are nearly 280 million vehicles on the road and the average person drives around 13,500 miles a year. The demand for transportation accounts for $1.9 trillion, or 9.1% of the GDP. We spend more money on transportation than we do on education ($1.4 trillion [6.5%]) and nearly as much as we do on food ($2 trillion [9.4%]). Our car-loving culture and transit-driven economy comes at a price beyond what we spend on vehicles and the gas that powers them. Our current system's focus on personal, internal-combustion engine vehicles for every American was fueled by the creation of the interstate highway system in the 1950s and '60s. That sweeping infrastructure investment came at the expense of downtown, majority Black communities, and reliable mass transit systems in most American cities. Currently, just 3% of the trips Americans take are by mass transit.
Transportation is also the largest source of greenhouse gas emissions in the United States. Those emissions contribute to a warmer climate, higher rates of heat-related and respiratory illness, more severe weather, and sea level rise among other things. These factors increase the cost of healthcare, insurance, and housing. In the Southeast, the impacts of climate change are more disproportionately felt in low-income and Black communities. These neighborhoods are often bordered by transit corridors and lag in green infrastructure compared to wealthier or white counterparts.
Even accounting for emissions created by generating electricity, plug-in electric vehicles (EVs) are still three times cleaner than comparable gasoline-powered vehicles. However, there are only 1.8 million EVs currently registered in the U.S., representing less than 2% of all vehicles on the road. The U.S. market share of EVs is a fraction of the Chinese market and China has eight times as many charging points for EVs than America. With strategic investment, the U.S. has an opportunity to lead in EV manufacturing, infrastructure, drive down the price of EVs, increase demand, and create jobs.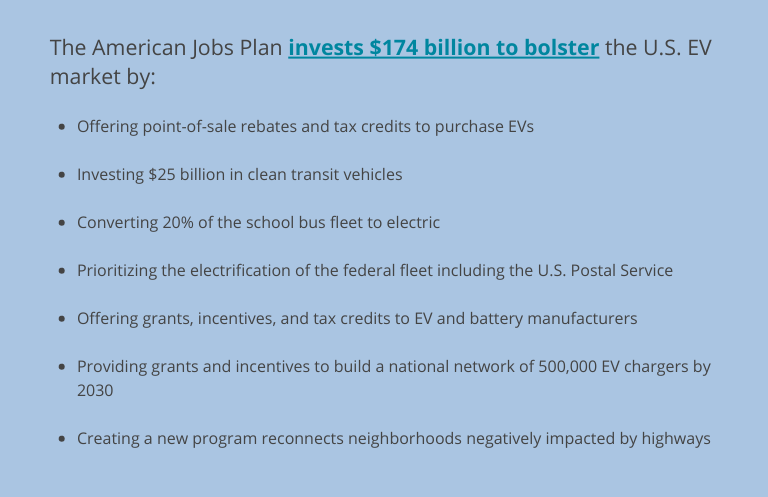 The American Jobs Plan proposes expanding availability and access to energy efficient transportation by investing in a strong domestic supply chain for EVs and parts, growing the market for EVs, building a national network of charging infrastructure, creating an equitable and modern public transit system, and reconnecting communities that were purposefully divided by highway projects.
In the Southeast, EVs are revitalizing existing manufacturing infrastructure by adapting operations, or inviting new business. Blue Bird is making electric school buses in Fort Valley, GA; SK Innovation is building two battery facilities and just announced a joint venture with Ford Motor; Mercedes-Benz announced its Tuscaloosa County plant will start producing electric SUVs in 2022; Schnellecke Logistics Alabama is adding a new warehouse and jobs to support Mercedes-Benz; in Spring Hill, TN, GM is transitioning its existing plant to build electric vehicles and recently announced Ultium Cells LLC, a joint battery cell venture with LG Energy Solution; battery maker Microvast is building a new factory in Clarksville, TN; Sese Industrial Services is adding a new plant to their operations in Chattanooga, TN to make axle components for the Volkswagen EV line; and in the Carolinas, Arrival is building a headquarters and two microfactories to produce electric delivery vans.
The increase in EV production, in response to growing sales, requires charging infrastructure to match consumer demand. In addition to the upfront cost, range anxiety remains one of the top reasons people and businesses are hesitant about switching to EVs. Federal efforts, like the Department of Transportation's intention to build charging infrastructure throughout the National Highway System provide a solid start to the transition away from fossil fuels towards a more efficient, and cleaner transportation future.
The American Jobs Plan breaks with precedent not only by not encouraging any expansion of the existing road network, but alternately proposing more modern and affordable public transit and rail, road safety measures for pedestrians, and reconnecting neighborhoods historically harmed by highway projects. A more reliable and resilient energy infrastructure that supports electrification also will decrease emissions in communities disproportionately impacted by transportation pollution while also reducing our sensitivity to market volatility, offers new opportunities in utility services, and provides storage capacity for renewable energy that can keep people safe in the face of disaster.
The powerful combination of consumer demand alongside federal policy focused on electric transportation has the potential to transform our communities into healthy places to live and work, gives us more efficient ways to connect with one another and in more ways, and lays a foundation for healthier communities for all residents in the Southeast and nationally.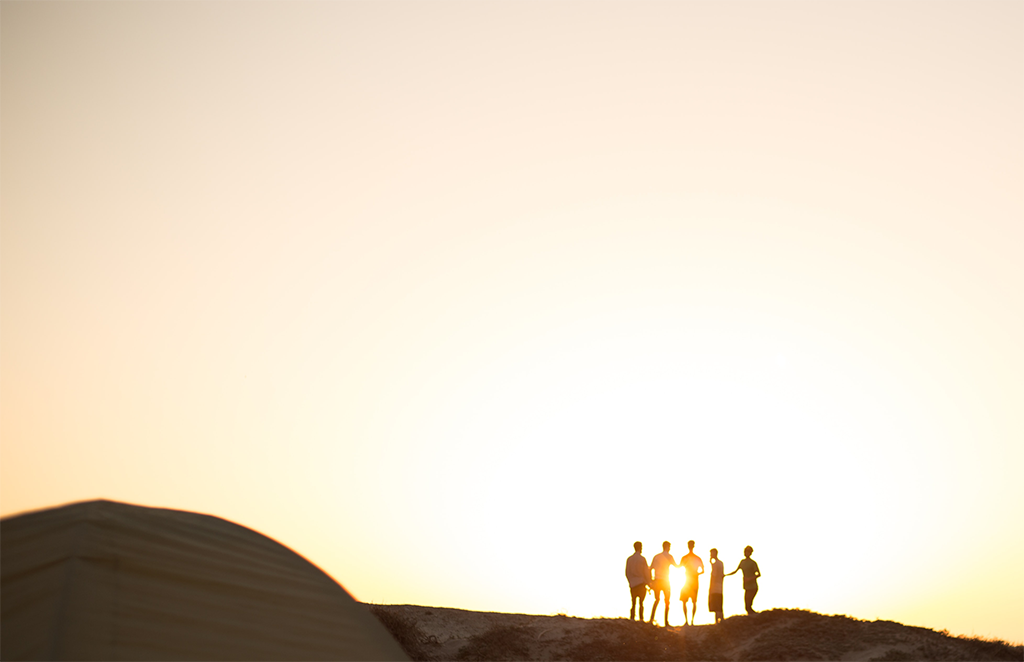 For patients recovering from a major illness or trauma, doctors stress the importance of improving social wellness as a part of recovery. They prescribe getting back on your feet as the first step, but note that staying healthy requires a long-term investment in one's physical, mental, and social health. In the American Job Plan, the Biden administration expands the definition of infrastructure beyond roads and bridges to include basic services, public institutions, and community resources. These shared assets bring people together, enabling them to meet their own needs and provide support to others. The plan marks a sea-change in public policy-making, explicitly calling for investments that support better physical, mental, and social health across our society. This reflects a fundamental shift in our cultural understanding of infrastructure and makes the case for social wellness as a prescriptive path to move America beyond recovery and back on its feet.
In 2009, the Obama administration responded to the Great Recession with the American Reinvestment and Recovery Act (Recovery Act). From 2009 to 2015, SEEA served as an Energy Efficiency and Conservation Block Grant (EECBG) administrator for the Recovery Act, coordinating 16 municipal governments and more than $20 million in grant funds across the Southeast. These local partners deployed a variety of programs providing public education and outreach, residential and commercial audits and retrofits, and a range of financing mechanisms for energy efficiency. In stewarding this cohort, SEEA witnessed the transformative effect that national infrastructure initiatives can have on the Southeast. The experience also gave us insight into how and why these efforts can fall short of addressing the most pervasive and systemic problems.
In economic terms the Recovery Act was a success. It reversed the financial crisis, created tens of thousands of jobs, and rescued the U.S. economy from a second Great Depression. The Southeast saw a 387% ROI on DOE's $20 million investment in energy efficiency alone. Despite these gains, the impact of the Recovery Act was ultimately stunted by a civic and social infrastructure that was unable to fully leverage the funding due to decades of under-investment. The gush of capital overwhelmed understaffed state energy agencies, makeshift city sustainability offices, and weatherization services operating on shoestring budgets and volunteer labor. In many ways, the Recovery Act revealed the limitations of the Southeast's ability to marshal resources, make plans, and tackle complex problems. This strategic vulnerability in public management capacity was further illustrated by the COVID pandemic.
The Recovery Act relied on large block grants and a competitive proposal process that left states and local government to figure out where and how to invest funds. While this supported innovation and experimentation, it also missed an opportunity to make long-term infrastructure investments and institute reforms to housing policy, health services, and other foundational areas. Failing to close these gaps meant that low-income communities and communities of color remained largely unable to fully participate in the Recovery Act or realize its benefits, let alone overcome systemic inequities in economic opportunity. In contrast, The American Jobs Plan expressly recognizes the nexus between social wellness and economic growth and makes addressing existing inequities a core component in infrastructure planning.
The American Jobs Plan is an ambitious, wide-ranging proposal that aims to modernize and electrify our vehicles and transportation system, increase the resiliency and clean energy capacity of the electrical grid, and rebuild and refurbish our homes and buildings to be more affordable, safe and healthy. The plan stimulates job growth and invests in a workforce to rebuild the middle class. If fully implemented, the American Jobs Plan would be the most transformational re-making of the American economy since the New Deal. The plan though, is just that, a plan. It faces a number of political and logistical hurdles. Obstacles aside, the framework itself is already transformative in presenting a more inclusive, more humanistic definition of infrastructure and what is needed for people to not only survive but thrive. It has changed the conversation, trajectory, and scope of infrastructure planning from this point forward.
The American Jobs Plan goes beyond the optics of shovel-ready, quick wins and reinforces the cornerstones of our physical, civic, and social infrastructure. The plan would accelerate the growth of clean energy and transportation technology sectors already driving employment across the Southeast. It recognizes housing and buildings as equally critical assets where meaningful investment can yield economy-wide benefits. Most significantly, the American Jobs Plan acknowledges the intersectional nature of poverty and would expand access to needed services such as healthcare, aging in place, childcare, education, and job training. Investments in these life enriching resources expands access to the jobs and benefits that come with revitalized roads, bridges, and energy systems.
The Recovery Act was a historic investment that got the Southeast energy efficiency field on its feet. The region is fortunate now to have more experience in designing and delivering energy efficiency programs, a better sense of what works, and a deeper bench of trained professionals ready to take the next leap forward. Now, with the American Jobs Plan's emphasis on rural communities, and prioritization of equity and restorative justice, the Southeast has the opportunity to go beyond recovery and invest in a social wellness that sustains the regions trajectory toward a cleaner, more prosperous, and more equitable future.