Joy Ward and Bianca Acha-Morfaw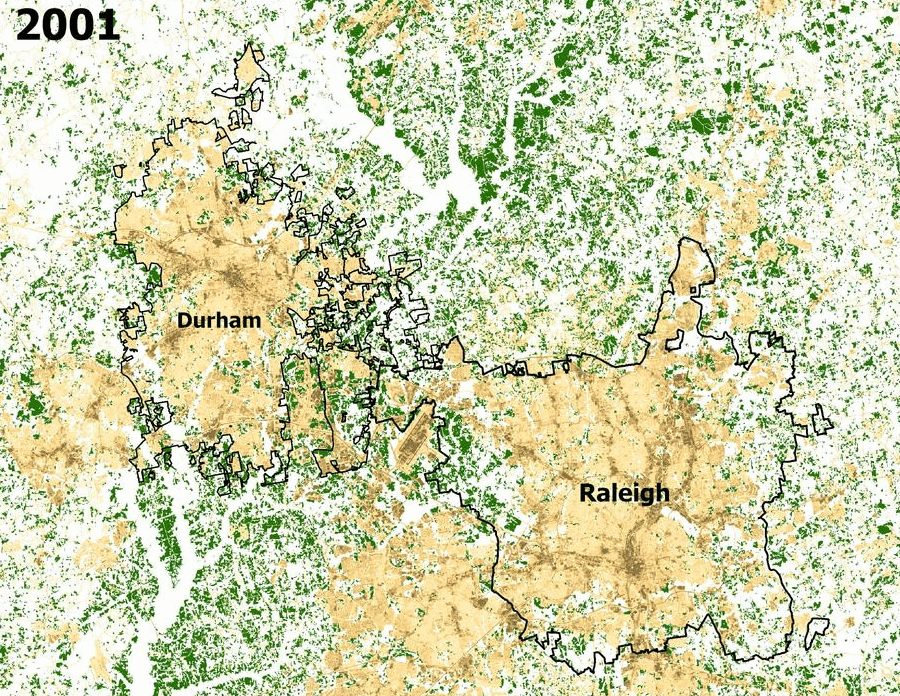 This month, our map is influenced by Earth Month, an initiative to raise awareness of global environmental challenges and to increase support for environmental protections and initiatives.
This map highlights the rapid increase of development in one of the fastest growing areas in the U.S., the Raleigh-Cary metropolitan area.
From 2000 to 2020, the population of Raleigh increased over 50%, according to U.S. Census Data. Surrounding towns, Cary and Morrisville experienced population booms of 94,536 to 174,721 and 5,208 to 29,630 respectively. The economic and cultural gains that coincide with an increased population can do wonders for an area but can also have environmental consequences.
A time lapse map of the Raleigh-Cary metropolitan area, using National Land Cover Data (NLCD) from the Multi-Resolution Land Characteristics (MRLC) consortium, contains satellite imagery of forestry and medium to high intensity development in Raleigh from 2001, 2011 and 2019.
From 2001 to 2019 the developed land cover (in tan hues) has replaced forestry (in green), specifically in the Research Triangle located between Raleigh and Durham. The increase of developed land over time aligns with the rise of urbanization and has resulted in an increase of impervious surfaces made of water-resistant materials like asphalt, concrete, brick, stone. Rooftops and compacted soils like sports fields are also impervious.
As impervious surfaces increase, tree canopy decreases. This leads to the urban heat island effect, when natural land cover is replaced with impervious surfaces that absorb and retain heat, resulting urban areas that are a lot warmer than the rural areas surrounding it. This is particularly a problem for energy efficiency as increased temperatures lead to increased energy costs and extreme heat events.
Tree canopy helps reduce the impact of the urban heat island effect as they provide shade to buildings that reflect heat, can deflect radiation from the sun that provide cooler temperatures to entire communities without expelling additional energy.