Millions of Southerners struggle to pay their monthly electric and gas bills. More customers are cost-burdened in the South than in any other part of the country, and one out of every three people in the region has trouble paying their energy bills. These Southerners live in a state of energy insecurity, where they struggle to maintain vital energy services like heating and cooling. Energy insecurity in the Southeast has become even more acute because of the job losses, accumulating utility debts, shutoffs, and other effects of the COVID-19 pandemic.
---
---
The solutions for addressing energy insecurity are complex. Accurately identifying the groups most vulnerable to energy insecurities is essential to creating meaningful and effective policy to address the cascading effects of energy insecurity. The built environment team at SEEA is actively researching and analyzing metrics to identify energy insecure households and how policy and programs can best support affected communities in the Southeast.
Questions? Contact built environment project managers Maggie Kelley or Will Bryan.

Learn more
Read our report, Energy Insecurity Fundamentals for the Southeast.
Listen to Maggie and Will present their research on Energy Insecurity in the South.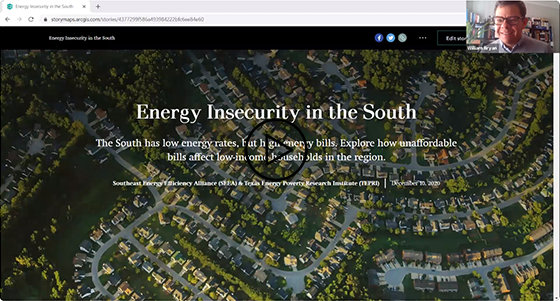 IMT's Lotte Schlegel & SEEA's Will Bryan discuss Energy Insecurity in the Southeast
Pandemic, unpaid bills test utilities' social justice vows | E&E News,